10

min read
When it comes to optimising your website, it's so important to keep up with new healthcare digital marketing tactics and strategies that will help you attract more visitor to convert them into leads and then those leads into your clients.
Here you are some of the tactics that I recommend implementing into your healthcare websites:
(keep in mind that these tactics also are applicable to other sectors that are serviced based businesses) 
1️⃣ Optimise your entire website for mobile
💻(close to 40% of the global traffic comes from mobile in 2020, therefore it is absolutely important for your strategy that you build and optimise your website for mobile as well.
Here you are some stats on mobile use by patients in healthcare.
88% of healthcare appointments are scheduled by phone. 
Prospective patients who research online prefer to call because healthcare is personal and private. People booking healthcare appointments for themselves, their children, or other family members want to speak to a real human being (source: Sequence).
2.4% of healthcare appointments are scheduled online. 
Many patients are reluctant to type their personal health information or reason for their appointment into an online form (source: Accenture).
Consumers researching nursing homes, physical therapists, and chiropractors are the most likely to call healthcare providers after performing a search. In many healthcare verticals, consumers transition directly from online searches to phone calls (Source: LSA).
2️⃣ Analyse Data that matters to your business
Now more than ever is key to be focused on user experience UX and conversions rates (using CRO techniques)
Test-Analyse- Improve- Test again….
Now more than ever, new challenges are coming when it comes to UX in the healthcare business, due to the new trends like: AI, augmented reality, health tech apps, etc…
Here some of the main UX challenges
3️⃣Make it easy for your the users to find the information on your website.
📊The importance of UX design, and a having a well optimised architecture of your site (booking, contact, treatments pages, blog, etc…) by mapping your customer behaviour to improve their online customer experience is also crucial for the success of your website. 
Of the companies who outperform in customer experience, mapping customer behaviour across all touch points is a key differentiator. 88% report that customer mapping had a positive impact on their ability to deliver personalised CX. This is according to Econsultancy's recent report, Walking in their Footsteps – The Business Case for Customer Journey Mapping.
Companies who are advanced at delivering personalised customer journeys report said the main benefits are:
Improved retention rates (cited by 51% of respondents)

Increased lifetime value, due to repeat visits, personalised marketing and the trust of the individual (cited by 45%)

Increased sales (cited by 41%)
Of those companies carrying out customer journey mapping at any level, 87% also said that it helps them identify the gaps between what customers want and what they're getting.
4️⃣ Use powerful lead magnets for lead generation.
One of the best tactics for lead generation through your website is using a powerful lead magnet, which is a piece of content that is very valuable for your ideal client, and for which they will be willing to share with you some of their details(name, email, phone).
The aim of doing this is to start building the relationship with those leads, who are your ideal clients, so then you can nurture them using email marketing.
Built relationships and trust first with your clients, as that will bring your the more 
Some good examples of lead magnets are:
-Free first medical assessment or consultation (call or face-to-face) or free trial in the gym.
Example of free trial by Nuffield Health
–Ebooks, checklists with(nutrition advice, recipes, gym workout exercises or rehab exercises.
–Online discounts for those who book online a bunch of sessions.
-Online trainings, webinars, etc…
Another example of lead magnet by a physiotherapy clinic in Manchester.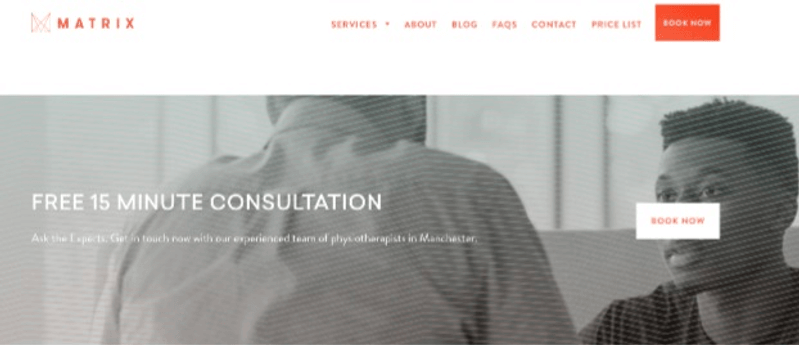 (Free e-consultation or free 15 minute consultation)
5️⃣ Quality content is key. Focus more on the quality than the quality.
Make useful, helpful and effective content focused on your ideal clients.
Some healthcare statistics that reveal the importance of having a content strategy, and to be presence where your ideal clients are.
61% of young adults have read, listened or watched other people share about their health experiences online (podcast, social media groups, youtube, etc..)

Almost 40% of young adults have used online tools to try to connect with other people who have similar health challenges including social media channels and groups
Some of the top content marketing strategies to use for your healthcare business are:
The power of storytelling
Storytelling is very powerful tool to use to connect and engage with people, as they are based on true stories that resonates with your audience (patients and potential customers).
Here a good example of storytelling by Nuffield Health (watch the video below)
Using Video Animation to connect and engage with your patients.
Video animation is another powerful tool to communicate your message to your audience.
In some situations in Healthcare or other sectors, there are some situations and regulations that block companies from creating some sort of content to connect with their audiences, and Video animation allows you to be creative, to be entertaining, and to inform and engage with your patients in a very useful way
But, if you want to find more how animation works, its benefits and the way it can help your business grow. My partner Kim Emson, she is the person to talk to!
And if you are looking to learn how to find ideas to write great content, and tactics on how to promote and distribute it. I would suggest to read my article on Linkedin here.
6️⃣ Build trust with your ideal clients.
Use testimonials form your clients/patients. (Use video, storytelling, and patient reviews)
I've share a post recently on the importance of building trust with clients testimonials and online reviews, and why is important having a strong review management strategy to attract new patients, in which I shred the following interesting stats: 
Did you know that?…..
94% of healthcare patients use online reviews to evaluate providers. Reading reviews is an easy first step for prospective patients to get a feel for your practice (Source: Software Advice).

84% of consumers trust reviews as much as personal recommendations. Having a strong review management strategy is crucial for acquiring new patients (Source: Inc.)

It only takes 1-6 online reviews for potential patients to form an opinion about your practice. A single bad review can deter numerous prospective patients (Source: RevLocal).

40% of consumers only take into account reviews written within the past 2 weeks. source: BrightLocal)
Both, online reviews, and testimonials are absolutely crucial when it comes to building trust with your ideal clients.
We'd highly recommend using Video Testimonials, because they are more powerful.
Although written testimonials are effective, and online reviews are influential, real-people video testimonials are:
Personal

Engaging

Compelling

Easily shareable
A great example of good use of video testimonials is coming from The UrolLift system, which is using video testimonials like the one you see below on Youtube.
7️⃣ Optimise your website for google.
(Search Engine Optimisation)
93% of online experiences begin with a search engine.
SEO is not dead, and it's more alive and important than ever for Healthcare businesses, considering the fact that 89% people go on Google when trying to answer a healthcare question, whether is information for a treatment or to look for a professional that can help them fix their health issues.
Some important things to look at when it comes to optimising your site for SEO are:
1- Write content optimised for the users, and optimised for Google.
So you need to carry on a deep keyword research analysis.
In this article I explain why a keyword research is important for your healthcare business.
In 2020, the really smart SEOs will get up from their desks to talk to customers so they can find out what their audience really wants from them.
"Content will truly have to be written to user intent rather than just strings that a user might search," Eli Schwartz said.
2- High Quality optimised content
To succeed in 2020 you have e to write something that is relevant and valuable, said Tony Wright, CEO, WrightIMC.
3- Other SEO Trends to be considered in 2020 are:
Technical SEO & UX, Link building, Mobile SEO, Structured Data, E-A-T and brand building.
Source: (Ebook SEO Trends 2020 via Search Engine Journal)
Ultimately, and no less important, is to run a proper Local SEO strategy , as most users that are searching for a services locally are more likely they are going to buy from you, if you ranking well for those specific local relevant keywords.
"78% of people searching on mobile devices for local business information make a purchase"
When it comes to SEO, there are many ranking factors to look at and strategies On page and Off page to implement, so I'd highly recommend you to hire an SEO consultant, you can get in touch with us here if you need help.
To summarise, some healthcare SEO tactics are:
1- Choose the right keywords
2- Define your meta data: title tags & meta descriptions for each of your website pages
3- Creating high quality content for the users that are answering their questions.
4- Optimised your page speed, and build your website mobile friendly and UX friendly.
5- Optimised your site for Local, using different local seo tactics, including optimising your GMB (Google My Business Page)
8️⃣ Use an online appointment system. 
And the last tactic, but no less important is to set up an online scheduling system on your website, so your clients can easily access and book their preferable time to visit your practice.
It's convenient for you and for your clients, as it will make your life easier.
5 Main reasons why you should use online scheduling on your website.
1. Online Scheduling Is What Patients Want
A research by patientpop.com shows about 42% of patients would rather make appointments using a website or app than by calling a practice. This could be for a variety of reasons. Patients seeking mental health or addiction services, for example, could feel embarrassed to pick up the phone…
2- It's a way to attract new Patients
An average of 63% of appointments booked online are coming from new patients (research shared by patientpop.com)
A patient who can instantly take action on your website is not likely to continue looking for another provider.
3- It's available to book 24/7
It's not always easy for patients to schedule appointment during working hours. So online scheduling is the solution, as it is available 24 hours a day, seven days a week.
4- It reduces administrative work
5- Online Scheduling Fills Empty Appointment Slots
There are plenty of them in the market: I'm not going to recommend one, but I personally know: Cliniko, Power Diary, Write Upp, SymplyBook.me
And here you are an article that compares plenty of different Medical Scheduling Softwares. 
Ultimately, if you would love to learn more about other healthcare marketing tactics to attract more patients to your practice, you can download the last version of our e-book here. 👇
Thanks for reading my article, and I would love if you leave a comment with your feedback, thoughts or asking any question you might have.