Free Marketing masterclass: Digital Marketing challenges and tactics to grow your business.
Are you a business owner feeling lost with your Marketing?
Did you know that more than 45% of companies don't have a proper marketing strategy in place, and therefore they find hard to generate leads and sales.
Does it sound familiar to you?
So in this FREE masterclass, I'm going to take you through the main challenges and the best tactics to help you grow your business, avoiding you overspending your Marketing budget.
Free Marketing masterclass to help you grow your business
We want you to let you know exactly how our service works and why we need your registration details.
Please state that you have read and agreed to these terms before you continue.
What I'm going to show you in this Masterclass
How to build an effective Digital Marketing plan for Lead Generation and growth. 
Top Digital Marketing Tactics & Resources 
You can ask me any questions you might have prior the Masterclass by emailing me at info@toninavarro.net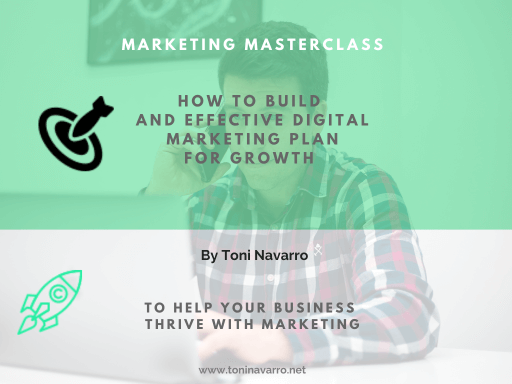 If you want to learn real marketing, you need to have a session with Tony. A few days ago, I had the chance to assist to one of Tony's webinar. I was mind-blowing with the amount of knowledge and value that he gave us during the session. Trust me, he is one of the top experts when it comes to digital strategy.
Ben Ekpang
CEO & Digital Marketer
Toni is a specialist in his craft - always working & striving to get the best results for his clients & himself - It's a real passion to see. I wouldn't hesitate in recommending Toni to anyone.
Stokely Howard
CEO of TrendyGrandad
Join here my private facebook for business owners