Are you a business owner feeling lost with your Marketing?
Are you trying different tactics without a clear strategy and a lack of an action plan?
Don't worry if you are , as you are not alone. More than 45% of business owners don't have a clear marketing plan and strategy to follow, therefore they end up wasting loads of time and money in tactics that are taking them nowhere. Does it sound familiar to you?
I know how hard is to run a business
Running a business is tough, I've done it myself for years and I'm still doing it.
I know perfectly, what are your pains, challenges and struggles, and that's why I've created this Marketing Mastermind group to help you put together a Marketing Action Plan to grow your business, and to keep you accountable to take action! 
What do you get with the
Mastermind session:
Find the right solution to your problems.
I will help you build a marketing strategy that works for your business
These mastermind sessions are specifically designed to help you overcome the main challenges and obstacles that you are encountering with your marketing.
After having a session with me, you will know how to define the right goals, and more importantly, you'll know how to build an effective Marketing plan that leads to you to grow and scale your business.
Is this Marketing Mastermind for you?
YES, if you are an overwhelmed healthcare business owner or marketer looking to communicate and attract your ideal customers in order to bring more sales to your businesss
FIND MORE CLARITY WITH YOUR MARKETING
We will help you create a plan that is going to bring more clients to your business, with no hassle and in less time. 
We know you are very busy managing your business, so with this programme you will learn how to run a more effective marketing that will help you stay focus on the business management.
The main goal of this marketing mastermind group is to support each other, and to keep you accountable to make things happens. 
I'm a certified Digital Marketing Strategist with over 10 years of experience working with B2B & B2C businesses.
My mission is to help business owners like you define and implement effective marketing strategies to attract their ideal clients, engage with them, to ultimately convert them into your clients with the key focus on driving sales & increase ROI.
In the past 4 years, I've helped more than 35 businesses to build effective Marketing plans for growth.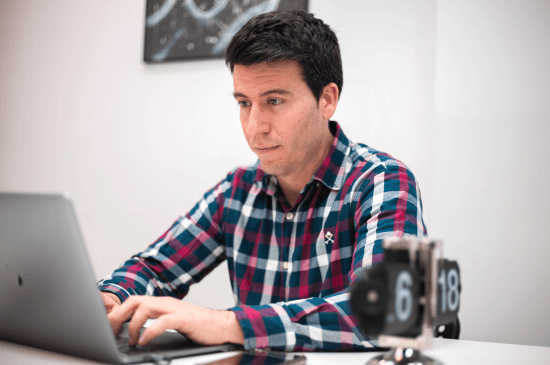 What other business owners said about me:
Since I hired Toni Navarro SEO and Digital Marketing Services, he has managed to optimise our website really well for Google and the users, and as a result, it´s been generating more quality traffic, and more importantly, it has brought more online bookings to our Matrix physiotherapy clinic every month and growing.
Toni and I worked together at the beginning of Flock´s journey. He helped us to improve our online presence and supported us with lead generation using digital marketing. Toni has always been hard-working and easy to work with. . Toni has always been hard-working and easy to work with.
Toni's knowledge around digital marketing is excellent, he delivers results and his way of explaining the strategy and frame works really helps.
Frequently asked questions
stop overthinking and take action now
It's a not brainer, a 90 minute session to share your marketing struggles and to get direct advice from me, for only 
£29, book your place in the next session available in the calendar below!